E-Submission is the total solution for document Workflow system which starts from Document drafting, Document routing, Document review / comment, Document approval, Document number registration, and Central Filing. The system is enhanced with various security features from login to approval. With tracking and auto-alert feature, it makes user to check the document status at any time.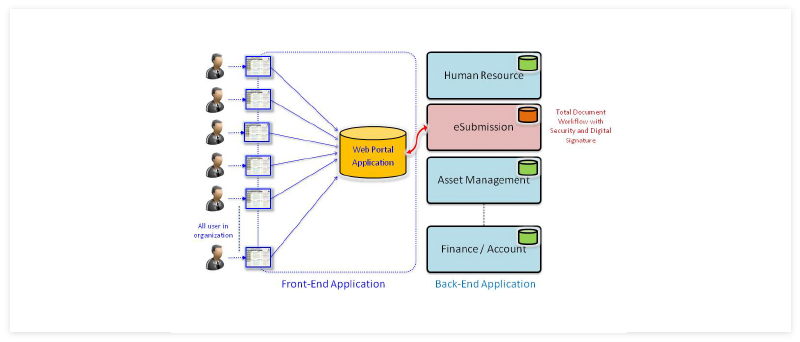 The key features of the system include :
Document Drafting
Keep the standard form in Microsoft Word template.
Use Microsoft Word to draft and edit document make users easy to use the system.
Document Routing
Support one-to-one and one-to-many routing.
Able to track the document status and date (read and commented by other users).
Auto-alert when other users put comment or revised the document.
Auto-alert when the authorized user approves the document.
Document Review / Comment
Maintain all review / comment and the revised document in the system.
Authorized user can view the document version from the first draft.
Able to delegate the document review / comment authority to other users when not in office.
Document Approval
Support Two factor authentication (e.g. password with smartcard) to increase security.
Able to delegate the document approval authority to other users when not in office.
Document Number Registration
Auto-assign the document number based on various specified conditions.
Central Filing
Easy to search the completed documents for future reference.
Encrypt data / documents in Database.
Able to give temporary authorization to other department to view the completed documents.